CYCLOP DIGS DEEP AND FINDS OUT EVERYTHING ABOUT CYCLISTS WORTH KNOWING ABOUT!
Who is Ajay Jaiman?
It is impossible to define him, as he dabbles in many things; documentary filmmaking, running his publishing firm Pitara and digital incubator Impellio, Scuba diving and being a husband and father of two with his daughter finishing school and son working in an advertising agency.
However, I have known him as a quiet traveler, based in Gurgaon, who every now and then bids his family adieu for a few weeks and heads off on his touring cycle to Spiti, Bhutan or Ladakh. But this time he headed to the United States of America and explored it in 2017, the first year of Trump's Presidency.
Why? And how was it? I ask him all about it.
Ajay takes on America.
Why the US?
Because it's there!
(Laughs, then sits back and thinks). Hmm... It's a good question.
At age 40 I had a massive heart attack. As I lay on the cold OT table, wondering why they were trying to freeze me to death, my loved ones prayed outside. Not only did I make it, but last year in 2017 I turned 50. Bloody impressive, eh? I had already cycled in Spiti and through Bhutan, and thought cycling across America was the closest thing to a celebration that I could plan; a kind of "teerth yatra" for an old man.
My brother who lives in Boston, had been offering his motorbike to do a road trip there. But would I enjoy a motorbike? I bought a 374CC Dominar here in Gurgaon to try it out and realized I preferred cycling, my first love.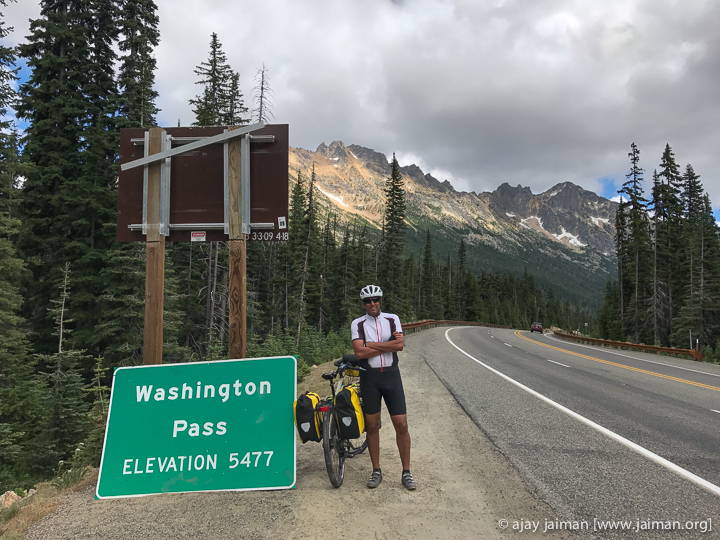 How did you prepare for the trip?
I have cycled through Spiti and Bhutan, so my packing list was ready. I ordered the cycle at my brother's home in advance, a Trek 920. It comes with a roadbike's dropdown handlebars, and a touring bike's thick tires, ready to handle both on and offroad. And of course, I had multiple water bottle holders, as American roads can be endless without any facilities for many miles. Other than that I just picked a route and went.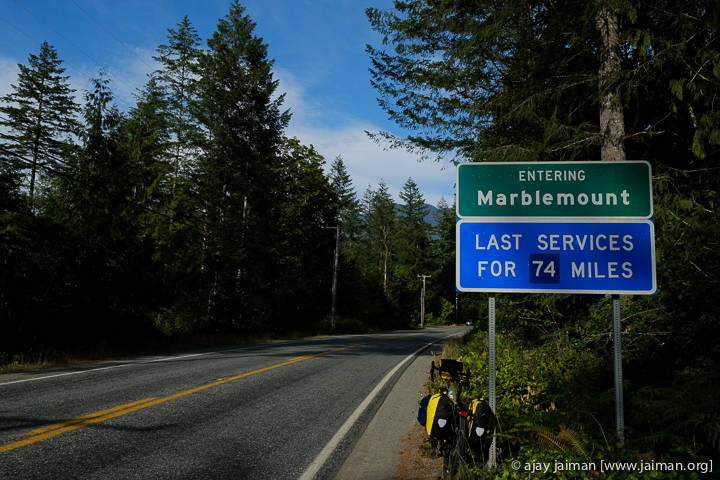 No services for the next 120km on parts of my trip!
What route did you do and how did you choose it?
I decided to do the Northern Tier Route, that goes West to East, from the Pacific to the Atlantic Ocean. It's a pretty standard route, and not one where you might be stuck indefinitely without help in case of an emergency. You can find it on Adventure Cycling Associations' site.
Of the total length of the route, about 6800km, I did 1700km as I only had 4-5 weeks to be away from home and work! In this, I cycled through Washington, Idaho, Montana, took the train to Chicago and then cycled through Illinois, Indiana and Michigan. Basically I rode through the mountains, skipped the endless plains, till I got to the great lakes.
I did north of Seattle to East Glacier Park, took a train to Chicago and cycled to Detroit. Total of 1700km. - Ajay Jaiman. Image credit: Google maps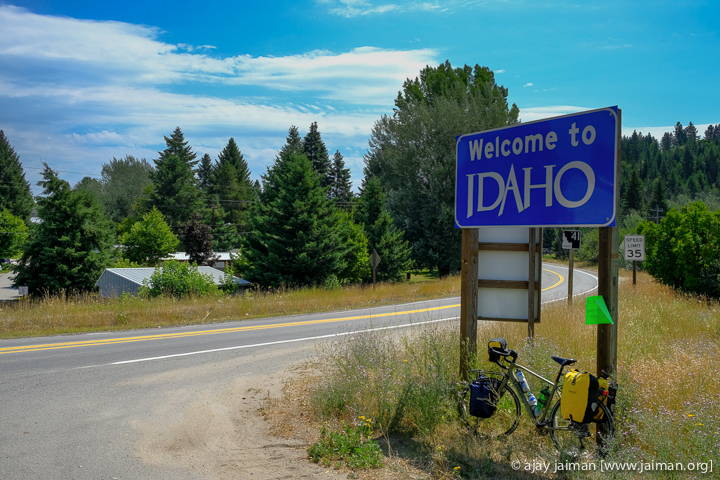 Of what I saw, among Washington, Idaho and Montana, Idaho seems to have the worst roads and also minimal to no shoulder. And Washington seems to have best. Photo Credit: Ajay Jaiman
Did your trip go exactly as planned?
Not at all actually. At the very start, when I headed to the Rocky Mountains, I realized that first I had to go over the Cascades, a whole mountain range itself! From that moment, speed went out of the window. But then, I did not have a rigid plan anyway. I planned to do as much as I liked in a day, and then stop. I had nothing to prove to no one.
The only thing I wish I had done was start a few months later. The American summer was raging hot and the forest fires were blazing at that time on the West coast. I tried cycling with a wet towel around my head to help.
I was sometimes cycling in 44.2 degrees Celsius; temperatures I have never cycled in, even in Gurgaon. Why didn't someone warn me! I was carrying a minus 15 degree sleeping bag.
And I made a mistake by buying SIM card on the East coast, for a cycling trip starting in the West coast where other operators had much better service. A lot of the times I had zero connectivity. Ouch. I was used to India and believe it or not, missed Airtel!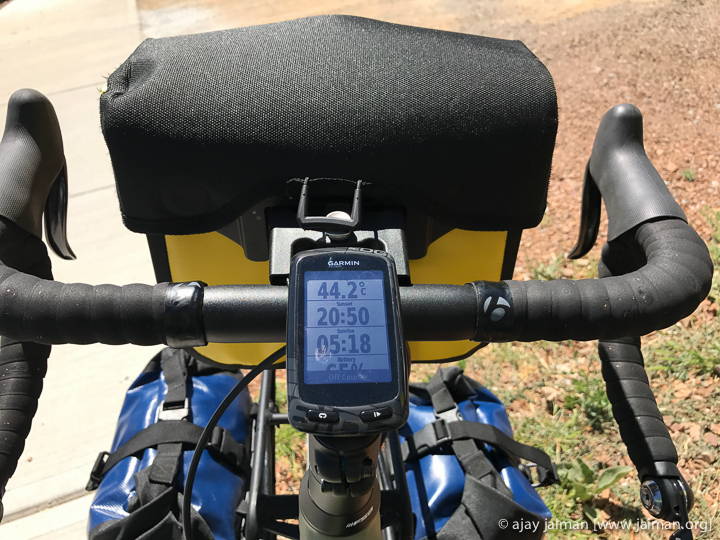 Cycling with a wet towel on my head to keep it cool.
Did you train before starting this trip?
No, not really. This trip is where it all had to happen. My plan was to build endurance on the American roads itself.
Any time you found yourself in a fix?
I once lost my way and found myself on a major freeway, with extremely fast trucks zipping by and literally blowing me away. It was a harrowing hour or so. Needless to say I survived to talk about it.
Which was the best place you cycled through?
That would be the Glacier National Park, a highlight in my trip in terms of visual spectacle. Here I did a picturesque ride over Logan Pass, not hard, 1000m climb and about 10km long. And for the first time in 2 weeks it was just a little cold. Ahh…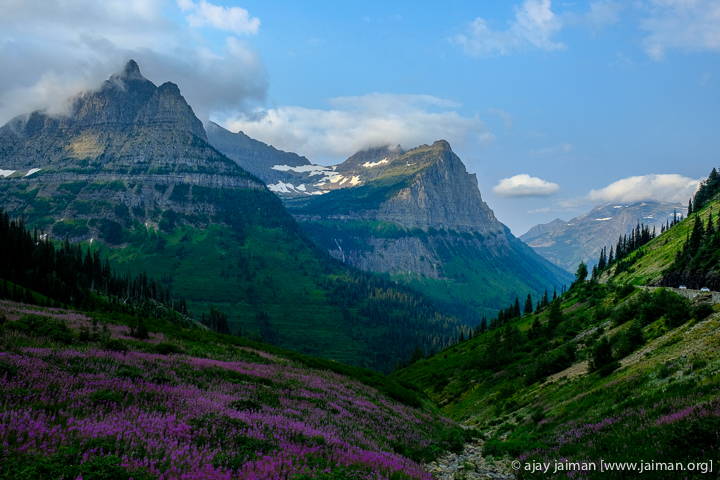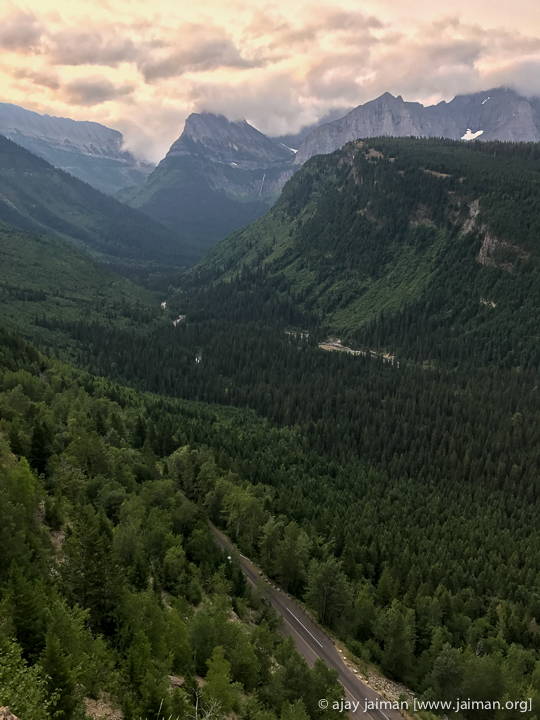 The climb to Logan Pass. You start at the bottom (near the creek) and you climb to the top left near the clouds (if you look carefully you might see the road). Wonder if that's why it is called 'Going to the Sun road'!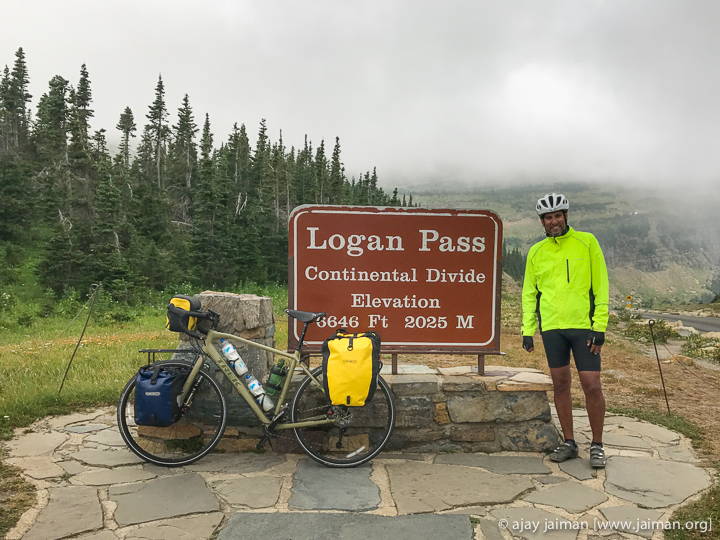 Ajay Jaiman on Logan Pass.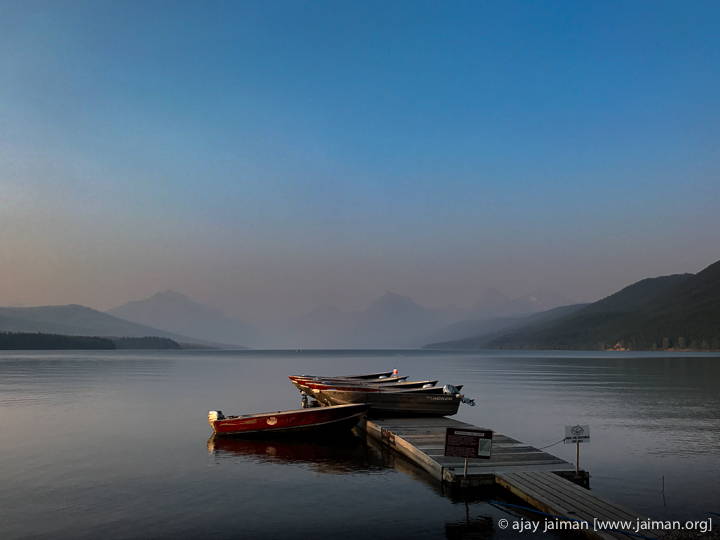 Lake McDonald, Glacier National Park.
Where did you stay each night? Did you pre-book any places?
No pre-booking and no clear-cut plan. I just knew where I'd find myself in the night each day. I pitched my tent in campgrounds and RV parks, that cost about $20 a day and once stayed in a hostel. Sometimes the campgrounds had a shower and a flushing toilet but at other times nothing other than a handpump and a dry pit toilet.
One of the best nights camping was next to a gorgeous river. I woke up to a great view!
Once I reached my campsite, I'd cook on my stove or eat at the town's diner, relax, and wash my clothes every other day, because I was carrying such few.
Home is where the tent is.
Campsite by the Pend Oreille Lake. My research tells me that native people have lived here since the last Ice Age - about 12,000 years ago. In the mid 1800s though they ceded the land to the settlers.
I must ask, didn't you feel scared pitching your tent and spending the night alone in the forest? After all, that area, is known for bears…
No I didn't. Horror stories stick in our minds but the chance of a bear attack is statistically very less than let's say, being struck by lightning. And I told my family, if it did happen, it would get recorded on my GoPro and my children could upload the footage on Youtube, get lots of likes and make millions of dollars off it for years! Haha!
Bear Warning on Entering Campsite.
A closer look at Bear Safety instructions.
What about meals?
I cooked a lot of the times, at my campsite. Sometimes I dropped in at town diners, but not frequently at all.
Once I went to the campsite's host to ask if the store close by would have cooking gas. He said – Probably not. Then added 'I have some spare, you can take it'.
When that gas cylinder did not fit with my equipment, his partner in their RV said – "Use mine for today!" And then she actually did the boiling and simmering for me. On my way out she added some of her freshly grilled chicken on to my boiled meal, saying "There, that should give you some extra protein."
I met such kind people along the way!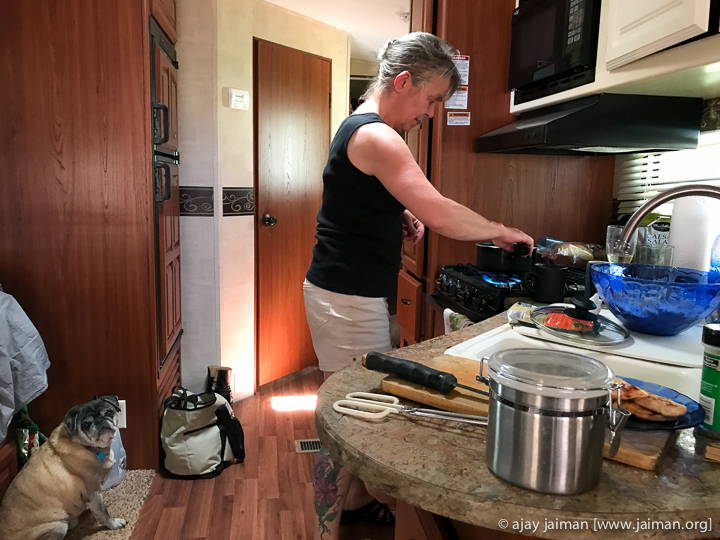 She kindly added grilled chicken to my veggies.
My trusty cooking stove on the bench.
The town diners always had a warm glow about them.
Wow! Some other people you met?
Interestingly as I cycled through small towns, I did not meet any African Americans, Latin Americans, or Indians. It was all white America. And many of them invited me into their lives.
Once when I had stopped in a town called Rexford near the Canadian border, I crossed 3, 4 Canadians sitting on the porch of a house having beer. To them I was an obvious outsider, a cyclist and that too an Indian. They called out – 'Hello!' and invited me to join. I had nothing more urgent to do than wash my shorts and so I did.
Gradually more and more people joined, about 15. It was a veritable roadside party now, and I happened to be the welcome curiosity. We talked about all kinds of things, Indian and Canadian. Did you know that in parts or northern Canada it is illegal to leave a person stranded on the road? In Manitoba it is illegal to lock your car? Why? What if someone has to escape a bear and needs to duck into your car!
Suddenly someone suggested that we should go for a boat ride in Lake Koocanusa! Not wishing to trouble them I started saying "No, thank y…" but we were all already piling into cars, and soon were in a nice powerful motorboat, viewing a gorgeous sunset and I was being told the history of the lake, about the railroad track that once existed here but was now waterlogged; traces of it could still be spotted.
We returned for a good ol' American BBQ. As I walked back to my tent, I thought none of it would have happened if I hadn't responded to the little "Hello!"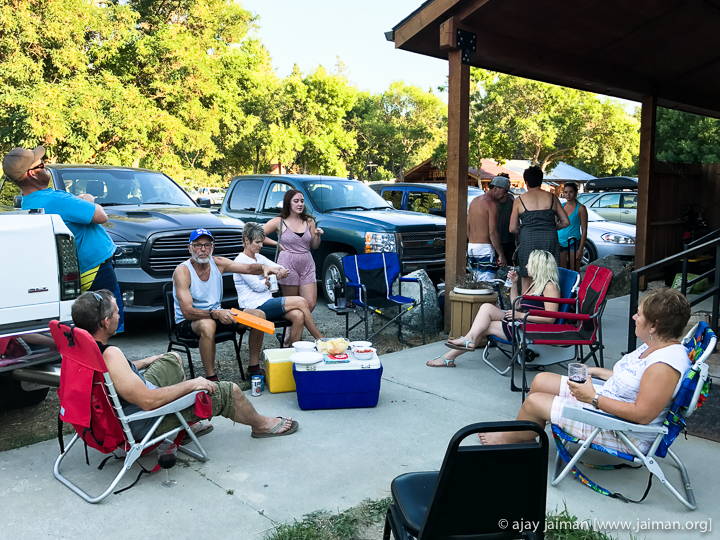 Other people I met included various cyclists doing the trail, and this 'pass collector' - Michael Fiebach. He cycles passes all over the world, done Ladakh too, and posts details on his website - Cyclepass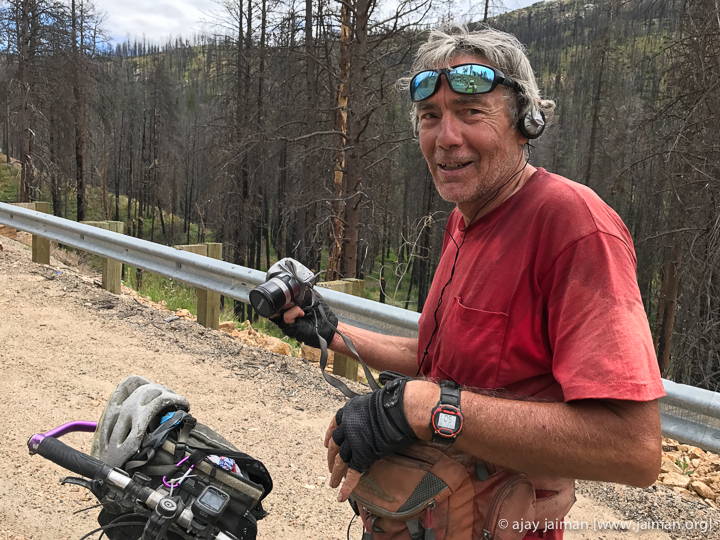 Michael Fiebach, the pass collector.
I encountered a bunch of people doing their own thing! There was 'Glider'. This is his trail name. Apparently, there is such a thing. All summer long he hikes country trails, all alone and in winter goes down south to his trailer and explores warmer parks. He is obsessed with 'base trail weight', and so, uses a tarp for shelter kept in place by hiking poles. He uses a trail down quilt instead of a sleeping bag, because zip has weight you know!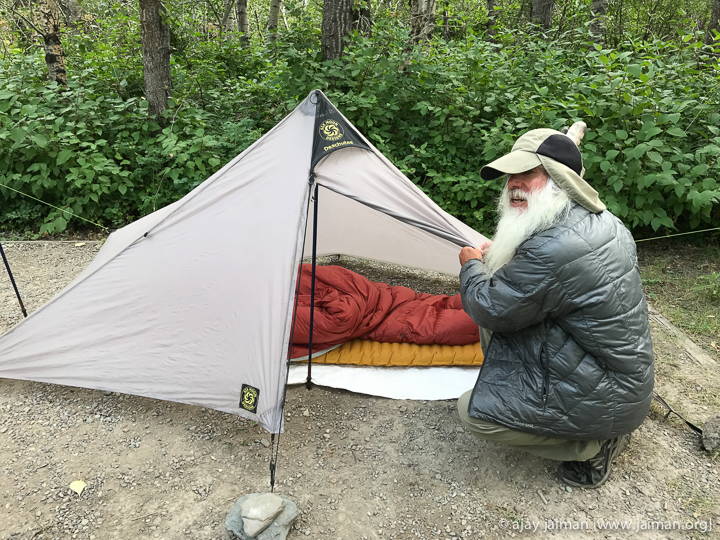 Glider who was obsessed with his base trail weight.
Then, at a waterfall visited by tourists, this person was quietly handcrafting wooden masks and selling them for $20 each.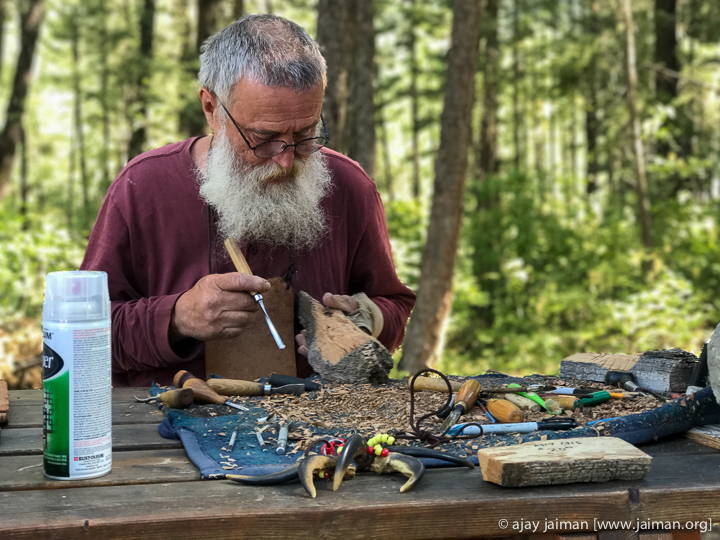 The craftsman.
One thing I learnt, and liked, is that Americans are wonderfully direct; when they offer something, they are not just being polite, they mean it. Don't say 'no' first and then wait for them to insist, till you finally say 'yes'.
Here is a young man who called out and asked 'Would you like some fruit?' I was hungry. A fruit seemed juicy. So, 'Yes' it was. He was a cyclist as well, and knew how it was for someone on the road!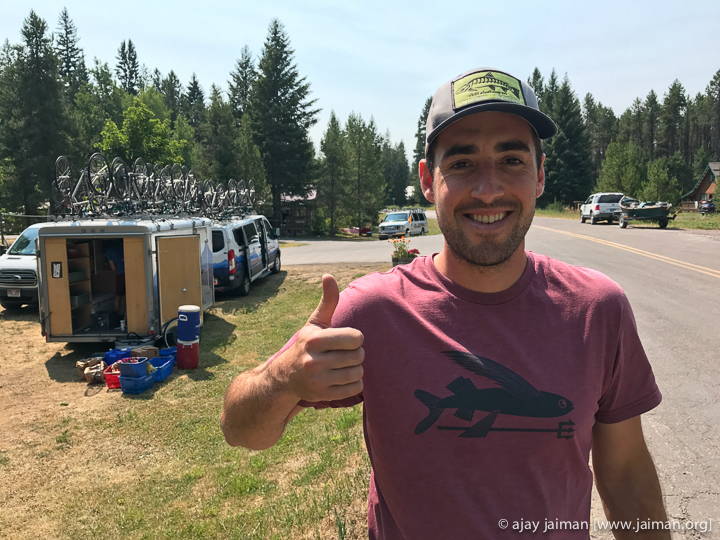 My Fruit Fairy.
Any great conversations, heart-to-hearts?
This one time I stopped at a deli for a sandwich, I met a guy, 20 years my senior. He was an 'Honest to God', hardworking man, lived in a small town in Montana with a population of 149, started working at age 12, went to Vietnam for Uncle Sam in his younger days. Now at 70, he still worked a full, hard day outdoors.
At 48 he had had a heart attack. His insurance premium jumped to $100 a month. Then, when he crossed 50 years of age, it rose to $500 per month. He remembered gas being 38c a gallon.
He pulled up a chair for me to join. He wanted to talk! That was for sure. He wished to discuss religion, politics and climate change with me. Note - This was the hinterlands, conservative America, and I a solo, brown traveller.
Discuss politics? Just like my Dad, about Modi and Kejriwal…
Yes, exactly! I politely declined saying I wished to avoid such sensitive topics. But he insisted saying – 'No, no, no. We must discuss this! I want to know your views!' and promised that we would not run into a fight. And from there followed a discussion of absolute disagreement on everything.
I respectfully tried to see if he would bite into the liberal world view. In the end he was not entirely antagonistic to it.
His point was - If a 70-year-old man who lives in the world's wealthiest nation, has worked hard and paid taxes all his life, needs to worry about his, and his spouse's basic healthcare costs then there is something wrong. Communities - families, towns, countries, are good because they take care of each other, especially those who are in need. Wouldn't that be the Christian message too?
I am an atheist; he was a God-fearing Christian. Our views differed, but nowhere did our conversation become unpleasant!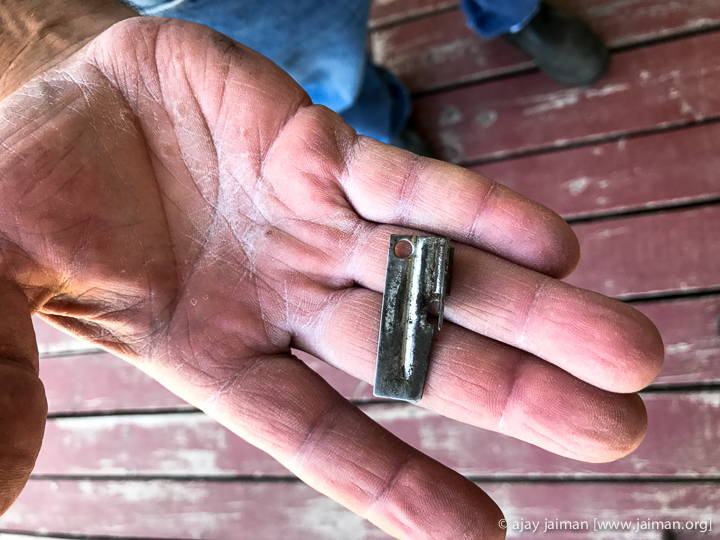 P38. Original military issue can opener (I needed to open a can of pineapple). The hand (and the can opener) belongs to the 70 year old war vet I met.
Any advice to people who want to do this trip, especially a cost-sensitive person (like me)?
Apart from flight tickets and such one-time costs, other costs such as that of stay, even if it is just campgrounds, and food, really do add up over a month! The trip was not cheap. I started running out of budget towards the end of it. Anyone attempting a trans-America trip should keep this reality in mind.
Finally, what was your takeaway from this trip?
Well... no great stories of struggle and triumph. I did not have a self-image of "Main Hero Hoon (I am a hero)". It was just tough to ride on the hot days.
Actually, what I did take away from this trip was – It really does not matter how many miles you do. After 6 months I don't look back on whether I did 50, or 70, 100 or 150 miles per day. What I do remember is who I met, what I ate, what I saw. What would I do if I came back with numbers? Imagine all the experiences I would have missed.
I became even more open to unexpected experiences. Not like a tourist with an agenda, but like someone who is ready to let things happen to him, who lets things come to him. So when someone invites you for an experience, it is your choice. You can say – Sorry, today I still have 50km to complete, or you can say 'Yes'.
Open to whatever the road brings.
Ajay plans to cycle through either Africa or Central Asia next! All the best and Bon Voyage to him for that. I have asked him to do a recce, so we on Cyclop can follow. And here is his packing list for you.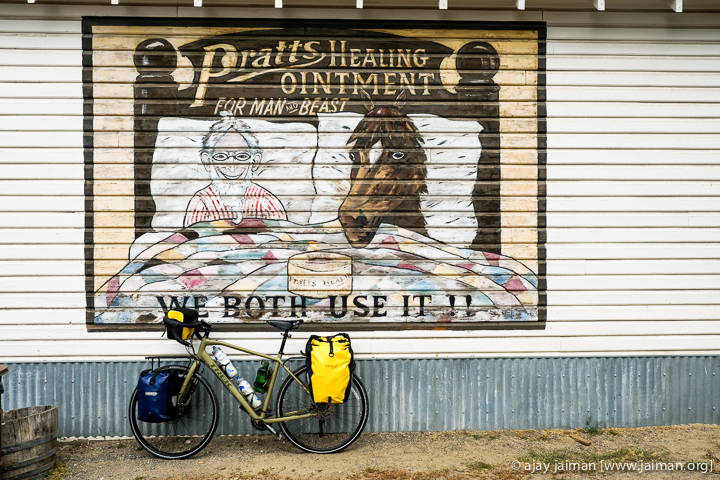 A memorable little town called Winthrop.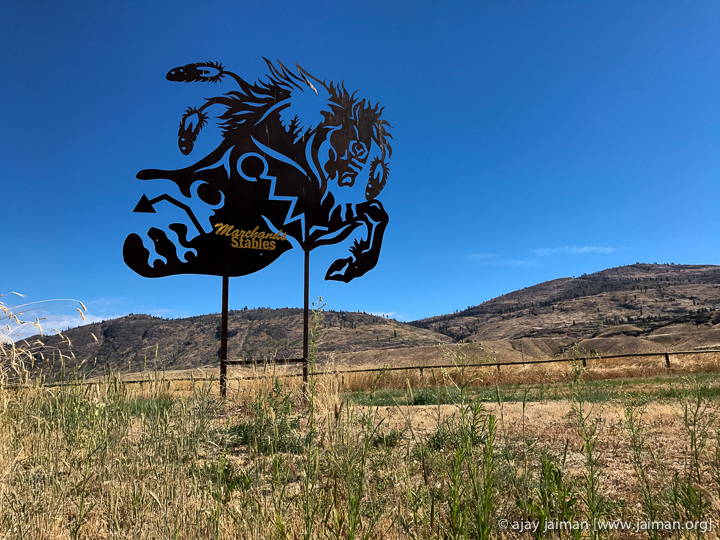 Skirted a Native American reservation. Lovely art.
---