About Catlike Mixino Road Bike Helmet Matt Fluor Yellow
The new Mixino is the latest evolution of Catlike design philosophy. It is the first cycling helmet on incorporate Graphene nanofibers on its inner aramid skeleton. Thanks to the use of this revolutionary material we have created a super light and ventilated helmet.
Features
MPS EVO
CUSTOMIZE YOUR COMFORT: MPS eVo 4 in 1*
*4 adjustament in 1 single fiftting system
MPS eVo (Multi Position System Evolution)
The innovative retention system MPS (Multi-Position-System) allows optimizing the comfort of the helmet thanks to its 4 points adjustment systems. Designed to adapt to any head size.
Wheel adjustment
The total adjustment, the ultra-light wheel of the MPS-eVo allows adjusting the diameter of the retention to the millimeter with every "click", achieving outstanding stability, with the maximum comfort.
Ergonomic adjustment
The ergonomic adjustment of this system provides outstanding stability by means of the side wings, which adjust to the temporal area of the scull. Furthermore, these wings adapt to all head shapes (oval, elipse, oblong), exchanging the different paddings of different thicknesses inside the helmet. It is recommended to remove these wings on round heads.
Height adjustment
This exclusive retention system also allows adjusting the vertical position of the retention, preventing any discomfort in the occipital area of the skull.
Rear adjustment
The rear adjustment enables the movement of the two supports in order to achieve the ideal position, removing any pressure on the central part of the cervical vertebra.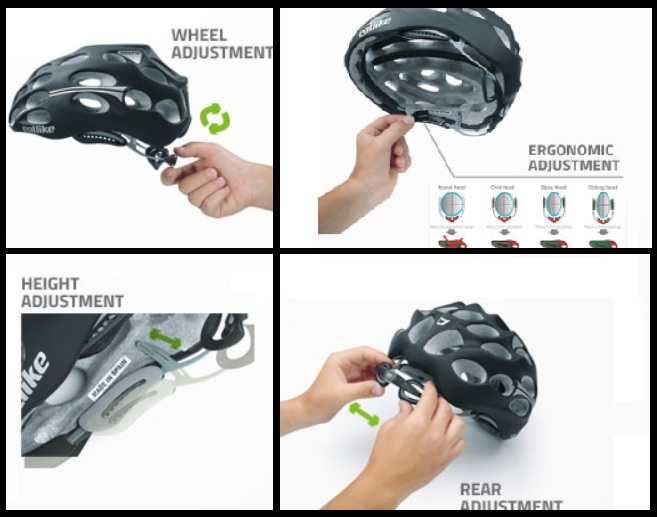 GRAPHENE
Graphene is a totally new material, derived from graphite, comprised of very interesting physical and chemical properties. Its basic structure is formed by carbon atoms set out in a hexagonal shape. This creates layered structures (like a honeycomb) of a thick atom whose intercalation, along with the "Van der Waals" forces, achieve a material up to 200 times more resistant than steel, yet is extremely light.This material exhibits enormous mechanical resistance and some unique electronic properties. Its extraordinary properties and its potential technical applications have made Graphene one of the most active research fields in materials' physics.The Catlike Research, Development, and Innovation Department has managed to incorporate Graphene nano-fibers into the manufacturing of cycling helmets, giving the head of cyclists maximum protection with minimum weight.

DUAL FLOW
Thermal regulation
The head is the main temperature sensor of our body. A matter by no means trivial, as excessive heat can cause symptoms of fatigue, dizziness and even dehydration, for all of this, and taking into consideration the needs of sportsmen and women, we have designed the Dual Flow (photo) system that provides maximum ventilation. While the positioning of the vents has been determined by scientific studies, the number of such is more than significant. No less than 39 vents that together with the internal channels favor the constant inflow of air inside the helmet, avoiding overheating.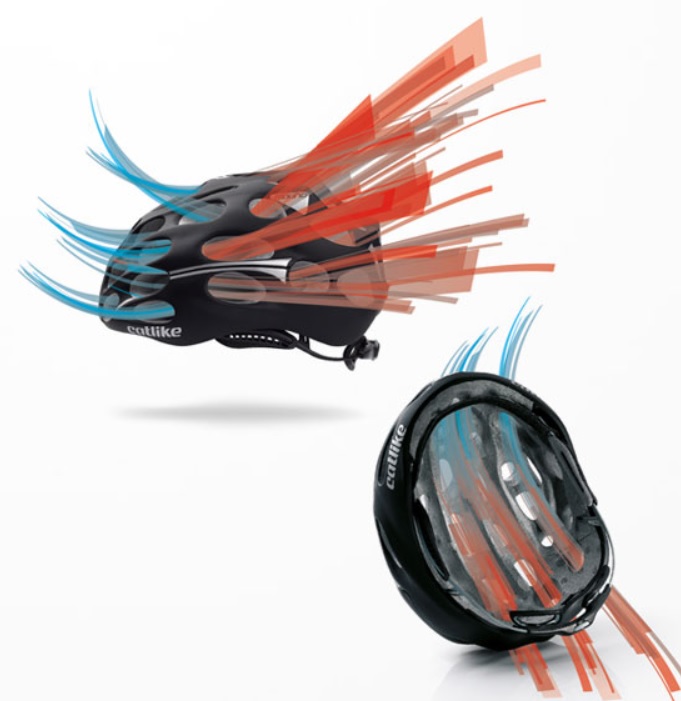 CES Safety CES (Crash Energy Splitter)
The unique design of Catlike helmets is not only based on aesthetics. The air intakes have been strategically positioned so that any impact will affect more than one nerve (CES). In the event of a crash, the energy generated will spread through the honeycomb-type structure, significantly increasing the head\'s safety.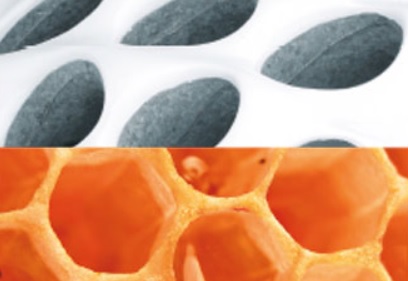 EPS+PPE
EPS is a 100% recyclable material that is characterized by being extraordinarily light, resistant and with great capacity of thermal and antibacterial insulation. PPE is an eco-friendly, recyclable, versatile and flexible plastic foam capable of withstanding multiple impacts without damage.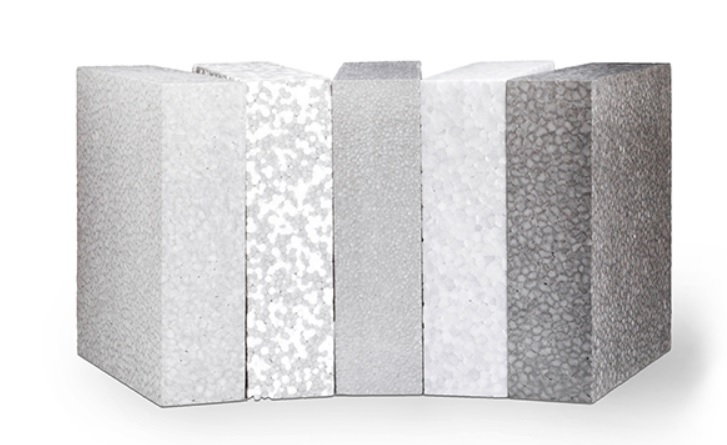 THERMY-TEX
Thermy-Tex is a permanent antibacterial and superabsorbent treatment that interrupts the development and reproduction of bacteria. It stops the formation of odors, absorbs the sweat quickly and is totally breathable and washable.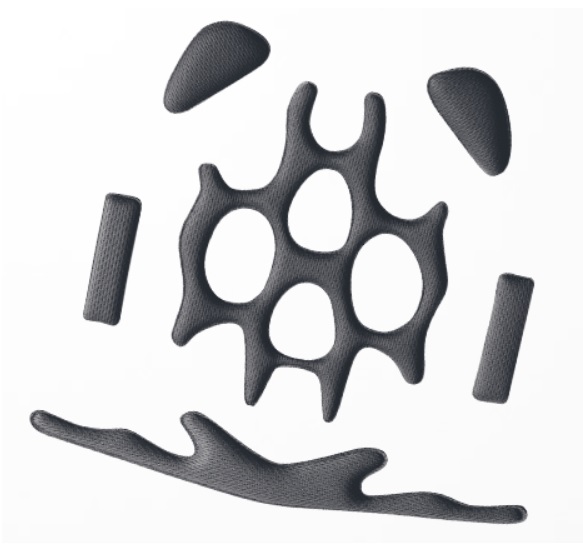 SAS Shock Absorption System
The Mixino has a design that in case of impact, the head suffers minimum damage. For this, on the inside front part, the helmet has expanded polystyrene, a material with a composition prepared for better absorption of impacts.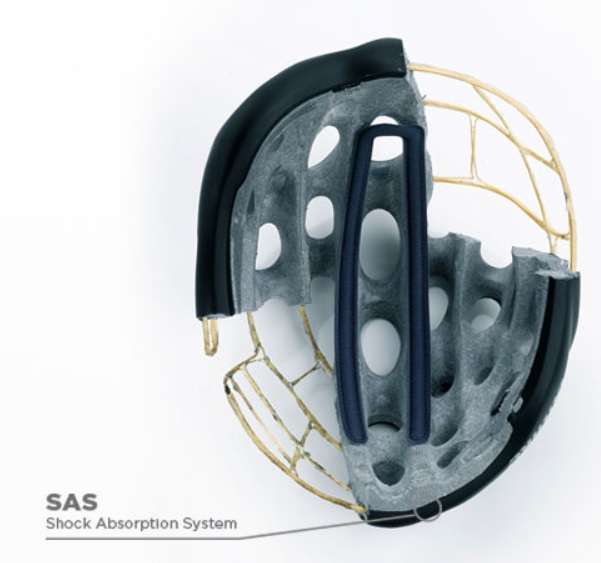 About Catlike
Catlike helmets are in a class of their own when it comes to comfort, safety and styling. Being light weight, catlike cycle helmets are easy to wear for a longer duration of time and offer optimized ventilation. When it comes to styling Catlike cycle helmets are available in attractive, cool and colorful designs. They are tested and used by the Euskaltel, Phonak and Comunidad Valenciana in Pro races throughout the world.
From the safety point of view there is no beating a Catlike helmet, they use an advanced Crash Energy Splitter (CES) technology. If the helmet suffers an impact these specialized bicycle helmets split the crash energy across the helmet, this is unlike other basic bike helmets that put the full force of the impact on a single point. The splitting of crash energy across a number of points ensures that the helmet offers maximum protection to the rider. All these features make the catlike bike helmets the best out there, no matter if you are riding a road bike, track bike or a mountain bike.
IN SHORT: Raise return/exchange request within 7 days of receiving the item. In case of item looking used or wrong item sent, please raise the issue on the same day by email or maximum early next day. After 7 days we cannot help with the issue of "item looks used."

We process returns/refunds for defective/ wrong items received.

For size issues there are no returns/refunds, just exchanges. Exchanges are not promised (to avoid policy abuse) but we generally help, and issue store credit if your correct size is not available with us. Items returned must be sent to us in unused, unworn condition with original packaging, tags 100% intact.
No returns on Bike sales for size issues
PRE-ORDER Cancellation will incur 4% cancellation fee.
Cancellation without reason by the customer will also incur 4% cancellation fee.
Visit RETURNS CENTER to submit your request
______________________

Please read detailed policy below to be fully informed:
For any issues
Check if your item is eligible for return/exchange. All details are in this policy.
Email at support@cyclop.in within 7 days of receiving your item.
Please mention your order number in the email, and state the issue.
Add photographs of the issue, to best highlight the problem.
Returns and refunds are eligible if
The Item was received in a defective/ damaged condition
Wrong item delivered
A product may vary slightly in colour from the image shown on the website.
Size exchanges
We will exchange sizes for you if the item ordered and received differs from the size chart shown on the website for that item at the time of ordering.
Please consult the size chart carefully before buying a product. S, M, L, XL sizing differs brand to brand, match the cm and inches.
Take help from the Cyclop team in finding your size, use the chat box on the site.
If the item does not fit you for any other reason and you want to exchange it, we will help you at discretion. We generally issue store credit if the exchange size is not available.
Returns/ exchanges will be processed only
If the product is unused/unworn
In original packaging with tags, manuals, packaging intact (not torn or ripped)
If sent with proof of purchase – receipt/ invoice
Returned with promotional items sent with the product
Due to hygiene reasons, we will not accept returns/exchanges of jerseys, shoes that appear even slightly used. Intimate-use items like cycling shorts, socks will not be returned/exchanged.
Shipping charges for return/ exchange
For defective/damaged/wrong items we will ship back the item at no cost to you.
For size returns you are required to ship the item to us with charges borne by you.
Original shipping charges are non-refundable.
A customer may exchange a product once.
No returns/ refunds/ exchanges for clearance items.

All returns/exchanges must be agreed with the Cyclop team on email before any related shipping is done.
WARRANTY
If you report an issue, 7 days after receiving the item, it will be treated as a warranty issue. You are required to contact the brand directly then, or connect with their official representatives in India for direct resolution of the problem.
 __
In general, our team helps customers get the item they are happy with, we assist in genuine cases for return/exchange with the goal to make customer experiences great.