About Catlike Leaf 2C MTB Bike Helmet Red Black
Leaf is a helmet dedicated to the Mountain Bike enthusiast. Developed using Catlike technologies, it is one of the best helmets in the Mountain Bike market. In December 2012 the German magazine "World of MTB" awarded it the prize for Best Value Helmet.
Features
MPS EVO
CUSTOMIZE YOUR COMFORT: MPS eVo 4 in 1*
*4 adjustament in 1 single fiftting system
MPS eVo (Multi Position System Evolution)
The innovative retention system MPS (Multi-Position-System) allows optimizing the comfort of the helmet thanks to its 4 points adjustment systems. Designed to adapt to any head size.
Wheel adjustment
The total adjustment, the ultra-light wheel of the MPS-eVo allows adjusting the diameter of the retention to the millimeter with every "click", achieving outstanding stability, with the maximum comfort.
Ergonomic adjustment
The ergonomic adjustment of this system provides outstanding stability by means of the side wings, which adjust to the temporal area of the scull. Furthermore, these wings adapt to all head shapes (oval, elipse, oblong), exchanging the different paddings of different thicknesses inside the helmet. It is recommended to remove these wings on round heads.
Height adjustment
This exclusive retention system also allows adjusting the vertical position of the retention, preventing any discomfort in the occipital area of the skull.
Rear adjustment
The rear adjustment enables the movement of the two supports in order to achieve the ideal position, removing any pressure on the central part of the cervical vertebra.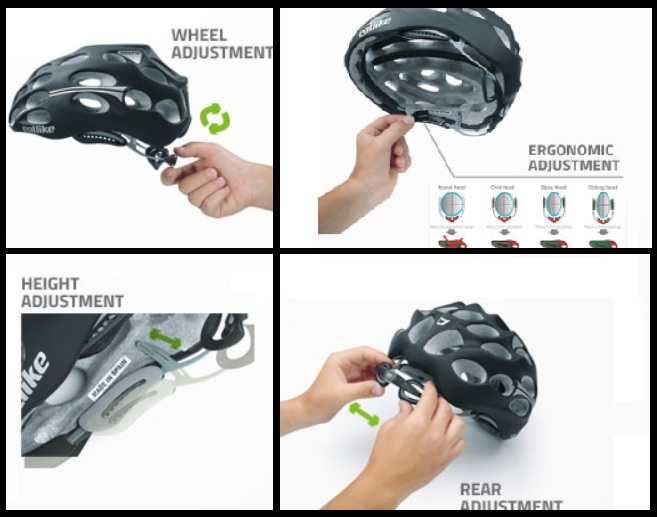 LNP Safety LNP (Low Nape Protection)
Design and safety have been perfectly harmonized to protect the occipital area, with LNP technology; helmets with a specific lower rear structure to fully protect this fragile area.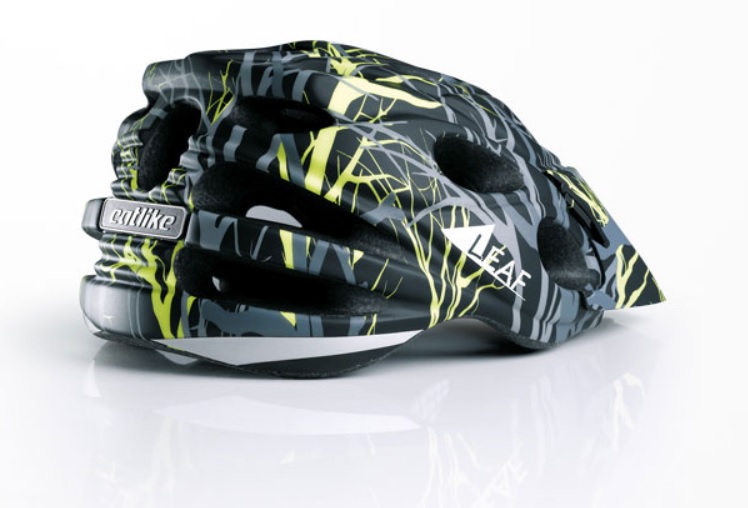 EPS+PPE
EPS is a 100% recyclable material that is characterized by being extraordinarily light, resistant and with great capacity of thermal and antibacterial insulation. PPE is an eco-friendly, recyclable, versatile and flexible plastic foam capable of withstanding multiple impacts without damage.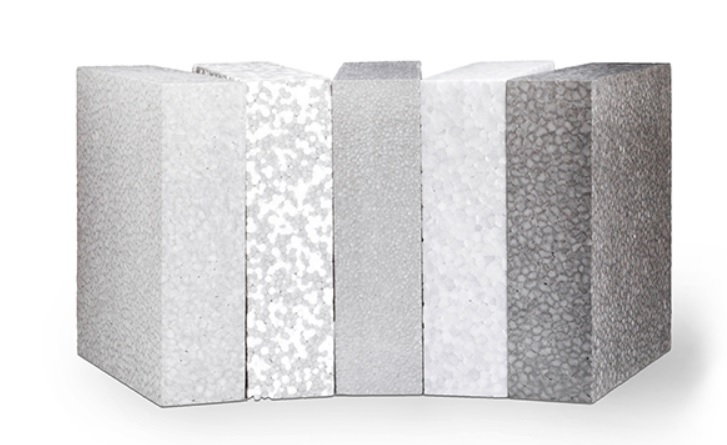 About Catlike
Catlike helmets are in a class of their own when it comes to comfort, safety and styling. Being light weight, catlike cycle helmets are easy to wear for a longer duration of time and offer optimized ventilation. When it comes to styling Catlike cycle helmets are available in attractive, cool and colorful designs. They are tested and used by the Euskaltel, Phonak and Comunidad Valenciana in Pro races throughout the world.
From the safety point of view there is no beating a Catlike helmet, they use an advanced Crash Energy Splitter (CES) technology. If the helmet suffers an impact these specialized bicycle helmets split the crash energy across the helmet, this is unlike other basic bike helmets that put the full force of the impact on a single point. The splitting of crash energy across a number of points ensures that the helmet offers maximum protection to the rider. All these features make the catlike bike helmets the best out there, no matter if you are riding a road bike, track bike or a mountain bike.
We support cyclists with a friendly return policy and try to help you in all the cases.

If you receive a product with damaged packaging from a courier partner, DO NOT ACCEPT the package, so that the liability does not shift to you. We will handle returns and exchanges for all the items that come to you with intact packaging.
RETURNS & EXCHANGES
In case of
Functioning defect (eg - pump not working), email us within 7 days and get refund/exchange.

Wrong item received, email us within 48 hrs and get a refund/exchange.

Damaged item (missing/broken part), email us within 48 hrs and get a refund/exchange.

Size issue, email us within 48 hours and get an exchange. If the desired size is not available then get store credit. Size is considered wrong if it does not match the description on the site. Read the size chart carefully before ordering.

Cancellation, you may do so if it is not shipped yet and get store credit.

Shipped Items cannot be returned unless they meet the condition below
Visit Returns & Exchange Portal  to check eligibility. Add photos/video of the issue.
CONDITION
Item sent back must
Have the tags still attached to the product as before

Have original, unripped packaging (the courier bag may be ripped)

Be in resellable condition

Unused, unworn, unwashed
NOT VALID FOR RETURNS/EXCHANGES
Intimate-use items like cycling shorts, socks

Shimano products unless damaged or wrong item shipped.

Bicycles


Nutrition items

Tires

Trainers
HOW TO PROCESS A RETURN
Visit Returns & Exchange Portal  to check eligibility and submit your requests
All refunds/exchanges/store credit etc will be processed after the item is received by us, If the issue is seen as valid and the product is deemed to be in a resellable condition.
WARRANTY
If you report an issue after 7 days of receiving the item, it will be treated as a warranty issue. You are required to contact the brand directly then, or connect with their official representatives in India for direct resolution of the problem. We will offer help in this regard.
amazing helmet, but overpriced
Catlike helmets are known for durability and their build quality, and LEAF 2C is no exception. The vents are big enough for proper ventilation. The helmet has a very snug fit. One limitation which I believe is, the cushions could have been a little better.